Alcoa Fastening Systems & Rings appoints Andrew Smith as new engineering manager
Telford, 06 May 2015 – Alcoa Fastening Systems & Rings (AFSR), Telford Industrial Fasteners Operations has appointed Andrew Smith as its new engineering manager.
Smith holds a BEng (Hons) in mechanical engineering, a diploma in management studies, is a Fellow of the Institution of Mechanical Engineers and is registered as a European Engineer (EUR ING). Prior to joining AFSR he was the engineering manager at Timken Aerospace Europe.
Reporting to operations director Jonathan Craven, he will manage a team of nine people, including two in France and Germany, who will help the business to grow through new and improved product development, as well as exploring solutions to how AFSR fasteners and installation tooling can be effectively incorporated into high volume automated production systems. To support this activity he will take the lead in AFSR Telford's goal of achieving ISO 9001 accreditation for its customer-focused design processes and management systems.
Commenting on his new position Andrew Smith said: "Coming from an industry where my main aim was to make sure components moved freely to one that provides solutions to make sure they don't is an exciting challenge for an engineer. I look forward to working with my new team at AFSR."
Jonathan Craven, operations director at Alcoa Fastening Systems & Rings added "Andy is a seasoned, professional engineer with an array of design, project management and international business development skills. He brings a customer focused, results-driven approach, and a wealth of valuable engineering and managerial experience to the company which will, along with his lead on significant projects prior to joining us, enable him to support the strategic goals of AFSR Telford."
Picture: Andrew Smith, engineering manager, Alcoa Fastening Systems & Rings.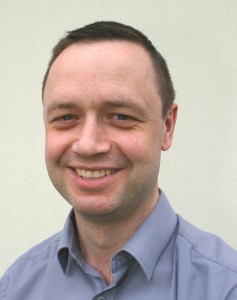 — ENDS —
About Alcoa Fastening Systems & Rings
Alcoa Fastening Systems & Rings, a business unit of Alcoa, is a leading worldwide designer and manufacturer of fastening systems and rings, including specialty fasteners, fluid fittings, assembly components, installation systems, and seamless rings for aerospace and industrial applications. Headquartered in Torrance, California, the company has over 8,300 employees at 39 manufacturing and distribution/logistics locations in 13 countries. For more information, visit www.afsr.alcoa.com.
Among the products offered by the AFSR industrial division are the internationally successful brands Huck-Spin®, Camloc®, Recoil®, Keensert®, Simmonds® and SNEP®. The Huck fastening elements from AFSR are used among others in private cars, trailers, commercial vehicle construction and railway carriages. The heavy-duty systems were designed to solve problems due to extreme tension and vibration between joined materials. They provide high stability and facilitate more lightweight, stronger and more durable structures. The Huck family includes small and large diameter lockbolts, medium and heavy-duty blind rivets and accompanying installation tooling. The product range based on Lou Huck's original drawing of the first lockbolt made 50 years ago, and now known worldwide as a HuckBolt®, has been continually improved.
About Alcoa
A global leader in lightweight metals technology, engineering and manufacturing, Alcoa innovates multi-material solutions that advance our world. Our technologies enhance transportation, from automotive and commercial transport to air and space travel, and improve industrial and consumer electronics products. We enable smart buildings, sustainable food and beverage packaging, high-performance defense vehicles across air, land and sea, deeper oil and gas drilling and more efficient power generation. We pioneered the aluminum industry over 125 years ago, and today, our approximately 59,000 people in 30 countries deliver value-add products made of titanium, nickel and aluminum, and produce best-in-class bauxite, alumina and primary aluminum products. For more information, visit www.alcoa.com, follow @Alcoa on Twitter at www.twitter.com/Alcoa and follow us on Facebook at www.facebook.com/Alcoa.
For more information Alcoa Fastening Systems & Rings, contact:
Jay Sahadew, marketing manager
Tel: +44 1952 204607