Drapers Hall to introduce new Macmillan fundraising menu 'Let's Give Cancer A Scare' on Halloween
Shrewsbury's Drapers Hall is to introduce a new menu specifically aimed at raising money for the Shropshire arm of national organisation Macmillan Cancer Support.
Let's Give Cancer A Scare will be launched on 31 October – Halloween. Consisting of three courses and available from Monday Dinner through to Saturday lunchtime, the menu will cost £22, individual courses can be chosen where £1.00 per course will be donated to Macmillan.  It is the first of its kind for Shrewsbury.
Commenting on the autumn/winter menu addition, business owner Sharon Huxley said: "Having lost friends and family this year this initiative is one that is very close to our hearts – there are also many positive and happy recovery stories to share. The nurses at Macmillan provide a fantastic service and we want to support them and the organisation as much as possible."
Helen Knight, fundraising manager, Macmillan Cancer Support Shropshire, said: "Thank you to Drapers Hall for helping Macmillan to provide continued support for local people. It is lovely to see a new idea enabling contributions to be made to Macmillan. We are always investing money in our many services throughout Shropshire, so fundraising to support this investment is vital."
The Let's Give Cancer A Scare menu is available to view on the Drapers hall website at www.drapershallrestaurant.co.uk/restaurant.
Picture (left to right): Sharon Huxley, owner, Drapers Hall and Helen Knight, fundraising manager, Macmillan Cancer Support Shropshire.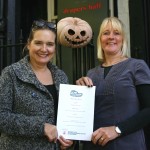 — ENDS —
About Drapers Hall
The current hotel, restaurant and bar were established by Nigel and Sharon Huxley in 2000. However, Drapers Hall dates back to 1485 and the beautiful building has more than a few stories to tell. Today's sophisticated interiors, high-end restaurant, well-stocked bar and luxury rooms make this the ultimate place to stay in Shrewsbury.
For more information about Drapers Hall, contact:
Sharon Huxley
Tel: 01743 344679
Facebook: www.facebook.com/DrapersHallRestaurant
Twitter: @Drapers_Hall
For more information about Macmillan Cancer Support Shropshire, contact:
Helen Knight, fundraising manager, Macmillan Cancer Support Shropshire
Tel: 07977 864278
www.macmillan.org.uk
Twitter: @macmillanshrop