Shakespeare Banquet raises £250 for Macmillan Cancer Support and Drapers Hall announces ongoing commitment to the charity
A successful event held at a Shrewsbury hotel and restaurant to commemorate 400 years since the passing of William Shakespeare, has raised £250 for Macmillan Cancer Support Shropshire.
Guests attending the Drapers Hall Shakespeare Banquet, which took place on the date of his death – Saturday 23 April – were treated to a six-course menu of mediaeval food and drink. Recitals, readings and music from some of his famous speeches, sonnets and songs, were delivered by actors and musicians from Shropshire Drama Company. Tickets were £50, £5 of which was donated to the charity. The balance was made up from donations made by guests throughout the evening and Drapers Hall itself.
Commenting on the event and the new fundraising initiative, the first for an independent restaurant in Shrewsbury, owner Sharon Huxley said: "It was thoroughly enjoyable evening and a commemoration perfectly suited to our historical building. The entertainment provided by the actors and musicians of Shropshire Drama Company added to the special occasion. We are very pleased to have raised £250 for such a worthy cause and can now announce that from 01 June, we will be donating £1 from the sale of sweets or puddings as identified on our menu to Macmillan Cancer Support Shropshire."
Helen Knight, fundraising manager, Macmillan Cancer Support Shropshire, said: "Thank you to Drapers Hall for hosting a wonderful evening. I am delighted that it has chosen to continue to support Macmillan and I think the idea of having a Macmillan dish on the menu is a novel way of raising money and awareness of Macmillan in Shropshire. I have seen donations from menus work so well in other counties so this could be a very successful and exciting fundraiser for Macmillan. I am sure customers will really embrace the idea, and that Drapers Hall is committed to its local community and helping people affected by cancer. All proceeds will be banked locally."
Picture: Helen Knight, fundraising manager, Macmillan Cancer Support Shropshire and Sharon Huxley, owner, Drapers Hall.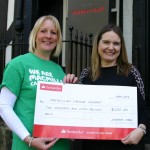 — ENDS —
About Drapers Hall
The current hotel, restaurant and bar were established by Nigel and Sharon Huxley in 2000. However, Drapers Hall dates back to 1485 and the beautiful building has more than a few stories to tell. Today's sophisticated interiors, high-end restaurant, well-stocked bar and luxury rooms make this the ultimate place to stay in Shrewsbury.
For more information about Drapers Hall, contact:
Sharon Huxley
Tel: 01743 344679
Facebook: www.facebook.com/DrapersHallRestaurant
Twitter: @Drapers_Hall
For more information about MacMillan Cancer Support Shropshire, contact:
Helen Knight, fundraising manager, MacMillan Cancer Support Shropshire
Tel: 07977 864278
For more information about Shropshire Drama Company contact:
Neville Street
Tel: 01743 246917
Facebook: www.facebook.com/ShropshireDramaCompany
Twitter: @ShropsDramaCo