Jonathan Day to release third album – a Spirit Library – in April
Following Carved in Bone and Atlantic Drifter, singer songwriter Jonathan Day will release his third studio album a Spirit Library, at the beginning of April.
Recorded in two diverse locations – SFG studio in the Berwyn Mountains and The Magic Garden, Wolverhampton, the collection of songs were written while out walking and sitting alone on cliffs and among forests and hills near to his home on the Shropshire/Wales border.
Day also found inspiration for lyrics from a variety of people including a seventh century Gaelic poet, the memoirs of Everest explorers Mallory and Irvine, Steppenwolf by Hermann Hesse, Mary Webb's Gone To Earth, words and stories from Tlingit, Khoisan and Jero speakers, and the philosophical musings and wisdom of Black Elk, a Lakota visionary.
There is an interesting collection of instruments on a Spirit Library sourced from musicians and traders while on his worldwide travels and tours. These include a gu zheng from Kowloon, a tanpura form Chennai, a pair of iron gongs from Bali, a saung gauk harp from Myanmar and a butterfly dulcetina from Kalighat in India. These sit surprisingly easily alongside his 1964 Burns guitar and a percussion section stolen from his kitchen!
Describing the concept behind the a Spirit Library Jonathan Day said: "It's a place half real, half magical, to preserve the ideas and ideals of all that's wonderful and enduring about humanity; literature, painting, medicine, music, kindness, empathy, science, philosophy; and to keep what's good about us safe and alive when everything we hold dear seems so under threat. The individual songs happen in rooms or spaces within and extending from the library. The atrium, where the Kailash Maake string quartet performs an opening piece of welcome, is an entry point, if you like."
The track listing for a Spirit Library is:
1 A Spirit Library – Welcome For Those Arriving, Lament For Those Lost On The Way
2 In Memory, A Crossing Of Great Seas
3 A Woman Made Of Leaves Has Labrodorite Eyes
4 Gone To Earth
5 Cajsa's Tears (Les Mariées Perdues)
6 From A High Stone Gallery, Open To The Sea, I see It Is New Year
7 Lost Languages Cafe
8 Pipistrelle Fly Beneath A Vault Of Stars
9 June 9th 1924 (A Place Of Mountains)
10 Sanctuary
11 In A Hall Of Ravens, A Harp Is Tangled With The Books
Jonathan Day will be touring from spring until late summer to support its release. A recent highlight was his participation in the UNESCO Intangible Heritage award celebrations in Kingston, Jamaica.
Dates include:
March
23 Hong Kong (China), Bird Time Jazz, song workshop
25 Hong Kong (China), More Than Folk, City Hall
April
11-14 Graz (Austria), Jazz Journeys, University of Music
19 Llangollen, The Sun Inn (with VU)
25 Oswestry, Hermon Chapel Arts Centre
27 Shrewsbury, In Good Hands cafe
May
4 Shrewsbury, Radbrook Community Centre
June
22 Shrewsbury, Gimme Shelter celebration concert
(TBC) Glastonbury Festival
August
2-4 Rhaedr Gwy, Landed Festival
8-11 Llanfyllin, Phoenix Festival
28-30 Bangkok (Thailand), Sonic Festival, Princess Galyani Vadhana Institute of Music
September
18 Narita, Tokyo, Kawaguchico, Hokkaido (Japan) – 'Family' tour.
A short documentary by Henry Rose entitled Singing Into Silence, about the making of the album and Jonathan Day's song writing process can be seen HERE. Jonathan Day performs Pipistrelle Fly Beneath A Vault Of Stars HERE and a video of Cajsa's Tears (Les Mariées Perdues) is available to view HERE
Available on the NiiMiika label, a Spirit Library is released 02 April and available to pre order online at www.jonathanday.net.
Pictures:
1 Jonathan Day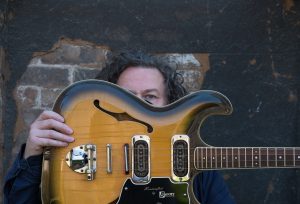 2 Artwork for cover of a Spirit Library