Marches Theatre Company's production of Arabian Nights at The Wightman Theatre, Shrewsbury 'perfect' for the festive season
Rehearsals have started and tickets are now on sale for Marches Theatre Company's (MTC) forthcoming production of Arabian Nights at The Wightman Theatre, Shrewsbury from 11 December to 03 January, 2016.
Directed by Sian Murray and adapted by Dominic Cooke, Arabian Nights celebrates the power of imagination and storytelling, told through a mixture of song, dance, puppetry and illusion.
It's wedding night in the palace of King Shahrayar. By morning the new queen Shahrazad is to be put to death like a thousand young brides before her. However, she has a skill that can save her: the gift of storytelling. With a mischievous imagination and silver tongue, Shahrazad delivers a dazzling array of tales, summoned forth from strange and magical worlds populated by giant beasts, singing trees and crafty thieves. Can this powerful gift save her life?
Arabian Nights is the third in a series of four MTC productions being staged at The Wightman Theatre throughout the winter 2015/spring 2016 period. The first two Last of the Red Hot Lovers and Neville's Island were very well received by audiences and critics alike. The fourth, William Shakespeare's Twelfth Night, begins its run on 27 January 2016.
Producer Adrian Monahan said: "I've been very heartened by the support for our new company and rejuvenated venue. The response from theatre-going public to our productions so far has been very positive and we are particularly looking forward to Arabian Nights. It is a play that will appeal to people of all ages, from young children of six years old up to OAPs, and is perfect for a family outing over the forthcoming festive season."
Performances of Arabian Nights at The Wightman Theatre, Shrewsbury start at 7.30pm with morning and matinee shows on specific dates. Tickets are £12 adult, £10 concessions, £9 under 14 and available to book through the theatre's box office on 0800 292 2116, online at www.marchestheatre.co.uk/bookings or www.thewightman.co.uk/bookings.
Pictures:
1 The cast rehearse a scene from Arabian Nights: clockwise from front Pushpinder Chani (with back to the camera) (Ali Baba), Aimee Powell (Shahrazad), Elena Thomas (Ali Baba's wife), Dean Leon Finlan (Baba Mustapha), Matthew Christmas (Kasim), Morag Carter (Kasim's wife), Oraine Johnson (Vizier), Johanna Hinton (Marjanah) and Jacob Wright (Sharayer).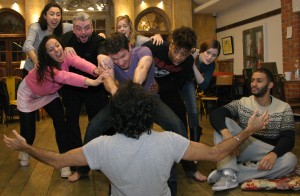 2 Pushpinder Chani (Ali Baba) and the cast rehearse one of the many animated scenes from Arabian Nights.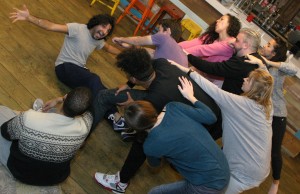 — ENDS —
About Marches Theatre Company (MTC) and The Wightman Theatre
The Marches Theatre Company is Shropshire's new professional repertory company and the first for Shrewsbury since the 1950s. It aims to present a rolling programme of tried and tested plays by established playwrights alongside innovative and/or interactive adaptations of classics and new writing.
The company's first season opened in October 2015 at 200-seat venue The Wightman Theatre in Shrewsbury town centre, which will be MTC's home for the foreseeable future.
For more information about The Marches Theatre Company and The Wightman Theatre, contact:
Adrian Monahan
Tel: 07894 848 687
Facebook: www.facebook.com/TheWightmanTheatre
Twitter: @WightmanTheatre