Patron Andrew Logan puts out call for volunteers to model his jewellery at this year's The Big Arts Show
The Big Arts Show, an annual Shropshire based event successfully launched in 2014, is once again looking for volunteers to help model jewellery made by patron and renowned artist Andrew Logan.
Held at the Greenhous West Mid Showground in Shrewsbury over the first weekend in July (1st, 2nd and 3rd) The Big Arts Show aims to provide a showcase for a wide diversity of artists using a range of formats and presentation through paint, sculpture, jewellery, glass, ceramics, furniture design, photography and performance art. The event, aimed at the whole family, includes over 140 exhibitors, workshops and talks given by the artists, a real bar, eateries and live music.
Andrew Logan is still one of Britain's principal sculptors and his art and jewellery can be found in public and private collections all over the world. In 1991 he established a museum dedicated to his own work located in the village of Berriew, near Welshpool. His jewellery has been described as 'addictive' by Marie Christopher, wife of former US Secretary of State Warren Christopher.
Running for approximately 30 minutes, Logan's jewellery show will take place in the showground pavilion during Sunday afternoon. Receiving full support and instruction from Andrew, volunteers and a friend or partner will be entitled to free entry into The Big Arts Show. Talking about his requirements Andrew Logan said: "I am looking for 20 local people of all ages. However, it is important that they do not have any modelling experience.  I would much prefer them to wear the jewellery naturally – a catwalk style performance is not required."
One person who volunteered last year was local Shrewsbury resident Beverley Baker. Commenting on her experience she said: "I was very excited to join Andrew Logan's jewellery show as a model and loved being a part of the art at The Big Arts Show! The opportunity to see so much creativity in one place was a plus, chatting to artists, sculptors and others. It's an amazing event."
For more information or to register an interest, potential model volunteers should ring 01694 771446 or send a picture and contact by email to: david.dawkins@thebigartsshow.com.
Picture: An example of Andrew Logan's jewellery.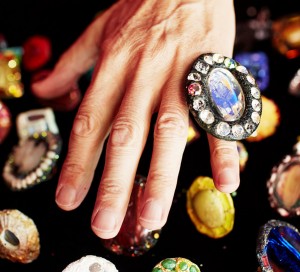 — ENDS —
About The Big Arts Show
Established by David Dawkins in 2014 The Big Art Show aims to provide a showcase for a wide diversity of arts and artists, crafts and craftspeople, rarely seen together at a single event. Artists are offered an affordable space to exhibit, demonstrate and sell their work.
The Big Arts Show is for everyone with an interest in art and craft, from the student to the serious collector. Families are made very welcome. In response to public demand and to accommodate the variety of work on display, the event name was changed from The Big Art Show to The Big Arts Show in December 2015.
For more information about The Big Arts Show, contact:
David Dawkins
Tel: 01694 771446
Twitter: @TheBigArtsShow
Facebook: www.facebook.com/TheBigArtsShow
www.thebigartshow.com