Red Step Marketing signs partnership deal with leading Chinese ecommerce provider Netsun
A Shropshire marketing and ecommerce business has signed a partnership deal with one of China's leading ecommerce providers, which it hopes will result in a significant number of new clients in the country's growing economy.
Shrewsbury based Red Step Marketing which has been active in the Chinese manufacturing sector since it was established in 2012, signed the deal with the multi-billion dollar Zhejiang Netsun Group.
Director Chris Allen and co-founder Neil Hambley are frequent visitors to China, particularly the east coast province of Zhejiang, where Red Step has a number of clients in principal cities such as Hangzhou and Yiwu.
With backgrounds in online marketing, CRM and project delivery for UK companies Allen and Hambley have applied their experience to the Chinese market with the aim of helping clients increase global exports. Red Step now delivers bespoke branded ecommerce solutions designed specifically for the evolving global B2B market.
Chris Allen said: "This partnership is another giant leap forward for us as Netsun is one of leading Chinese companies in its field. It will provide access to a multitude of suppliers in any number of product areas, all of which can benefit from Red Step's modular based ecommerce business solutions. In addition, it cements a high profile presence for Red Step in Zhejiang province, where the importance of the partnership has already led to excellent coverage in the local press and media. We expect it to be a long term partnership with the potential for a UK based hub in the future."
In addition to new clients, Red Step has developed close links with the region's government, particularly the Zhejiang Department of Commerce in Hangzhou. As a result Allen and Hambley will return in September where they will exhibit and present to key delegates at the annual China Zhejiang International Business Service Fair 2015 (CISF).
The exhibition is aimed at building global trade relations to assist Chinese companies requiring foreign expertise and specialist knowledge. Red Step will be taking a delegation of British service providers to CISF, held on 15th and 16th of September and welcomes enquiries from interested companies either by email enquiries@redstepmarketing.com or telephone 07880 500508.
Picture: Chris Allen, MD Red Step Marketing signing the partnership agreement with Mr Sun Deliang, CEO Netsun Group.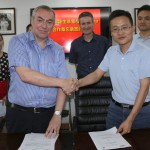 — ENDS —
For more information about Red Step Marketing, contact:
Chris Allen, MD
Tel: 07880 500508.
www.redstepmarketing.com
Twitter: @RedStepUK