Reviive and Severn Hospice join forces to promote Furniture Re-use Network's first #BuyNothingNew Day
Two well-known Shropshire organisations have joined forces to support the first national initiative to offer an ethical shopping alternative to Black Friday.
Resale and recycling social enterprise Reviive along with Severn Hospice will be promoting Buy Nothing New Day on Friday 24 November. In addition Reviive will be offering a ten percent discount to all customers purchasing from either of its outlets in Oswestry and Shrewsbury.
Buy Nothing Day was first started by Canadian artist Ted Dave in 1992 to raise awareness of blatant consumerism. Adopted by Furniture Re-use Network the concept has been launched for the first time this year.
Buy Nothing New Day aims to dispel the myth that second-hand, is second-best. Donating to or buying from local charities enables them to provide essential support and services to those in need.
Reviive retail manager Julie Hotchkiss said: "This will be a very exciting day for us and we are delighted to be joining forces with Severn Hospice to raise awareness of the social benefits of reuse in our local community and to encourage people to buy nothing new."
Ross Henderson, head of retail at Severn Hospice, said: "We get great support all year round from donations to our shops and customers buying from us and I'm hoping people will make a special effort on Friday – it really makes a difference for patients."
People making a purchase on 24 November are encouraged to post a selfie or photo outside a Reviive or Severn Hospice outlet and include the hashtag #BuyNothingNew.  #BuyNothingNew is also aiming to trend on Twitter and a Thunderclap has been established to achieve this:  https://www.thunderclap.it/projects/63672-buy-nothing-new.
Pictures:
1 (left to right) Julian Price, MD and Julie Hotchkiss, retail manager, Reviive.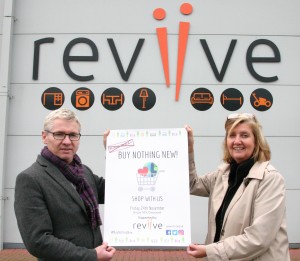 2 (left to right) Julie Hotchkiss, retail manager, Reviive and Ranee Twyford, assistant Manager at Severn Hospice shop on Wyle Cop, Shrewsbury.