Reviive launches Shropshire-wide Art From Waste competition
A Shropshire recycling and resale centre is encouraging potential artists to enter a competition to win prize vouchers and gallery exhibition space.
Reviive has launched Art From Waste with the aim of individuals, organisations, businesses and schools within the county to create a work of art based on the theme of winter from materials found in our recycling streams such as cardboard, plastic, metal and paper.
It can be any size or dimension and the closing date for submissions is 31 October. Images of entries will be accepted either by email entitled 'Art From Waste competition' to online@reviive.co.uk, by Instagram, via the Reviive Facebook page at www.facebook.com/reviive or in person to the Participate Contemporary Artspace (PCA) gallery, Riverside Shopping Centre, Shrewsbury. Artists will need to provide details of their name or organisation and include a title for their entry. Multiple entries will be allowed and the winners, who will receive first, second and third prizes of £250, £150 and £100 vouchers to spend in any Reviive outlet, will be announced on 01 December. All entries will be displayed in the gallery during January with spotlights on the winning pieces.
The competition judges are artist and director of PCA Sara Mai and eco artist Wren Miller, whose most recent piece The Great Wave, was recently exhibited at the South Bank in London. Participate will also be offering workshops at the gallery during half term for potential contestants to find out more about creating art from recycled materials, for example, sculpting from cardboard, plastic pixel painting and relief painting techniques, among many others. Contact the gallery direct on 01743 366771 to book a place.
Commenting on the process and what she and Wren Miller will be looking for in the submissions Sara Mai said: "There is a vast array of everyday household objects passing through our recycling system, which have colour, texture, size and shape. They can be bent, folded, crushed and expanded, stuck, strung, glued, painted and patterned. There is so much potential. Wren and I will be looking for imagination, innovation and well as interpretation. Winter is coming."
Julie Hotchkiss, retail manager at Reviive, which exhibited a display of Reviive's our upcycled furniture in 2013, said: "Creating art can be a fun way to reuse the abundance of everyday recyclable material. If this competition is successful then we may well turn it into an annual event. "
Pictures:
1 (credit: Josephina Edwards) Wren Miller, eco artist, Sara Mai, director, PCA, Julie Hotchkiss, retail manager and Julian Price, MD, Reviive.
2 Sara Mai, director, PCA, Wren Miller, eco artist, Julian Price, MD and Julie Hotchkiss, retail manager, Reviive.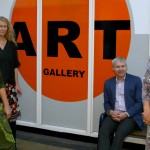 3 & 4 Wren Miller, eco artist, Sara Mai, director, PCA, Julie Hotchkiss, retail manager and Julian Price, MD, Reviive.
— ENDS —
About Reviive
Reviive was established in 2010 by two Shropshire based charities – Shropshire Housing Alliance and South Shropshire Furniture Scheme. It has three centres in Shropshire at Oswestry, Shrewsbury and Telford.
Reviive is a social enterprise and its aims are to directly help young people and the long-term unemployed with opportunities to work in a supportive environment and learn and grow in confidence so they can enter the job market in a stronger position.
Reviive's profits supports charities that work with homeless people, women fleeing domestic violence, young people having to leave the family home as well people facing health problems and needing to change and re-build their lives.
For more information about Reviive, contact:
Julian Price, managing director
Tel: 01743 442642
www.reviive.co.uk
Facebook: www.facebook.com/reviive
Twitter: @Reviive
For more information about Participate Contemporary Artspace, contact:
Sara Mai, director
Tel: 01743 366771/ 270229.
Facebook: www.facebook.com/paricipate/