Reviive: Art From Waste competition winners now on display
The winners of an art competition based on the theme of winter and created from materials found in everyday recycling streams such as cardboard, plastic, metal and paper, now have their pieces on display in a local gallery.
Instigated by Shropshire recycling and resale organisation Reviive, Art From Waste can be found at the Participate Contemporary Artspace (PCA) in the Riverside Shopping Centre, Shrewsbury
From a wide selection of offerings competition judges Sara Mai, director at PCA and eco artist Wren Miller chose the following winning pieces:
1 Lightberg by Jancis Vaughan
2 Brother Winter by Mal Brown
3 Beware of the Bear by Ivan Allen
The first, second and third prize winners each received vouchers of £250, £150 and £100 vouchers to spend in any Reviive outlet.
Sara Mai said: "Lightberg is an installation piece made from old lamps and recycled material board. We thought this piece best encapsulated the theme of winter and liked the parallels that could be drawn from the bogging around of icebergs and the bobbing around of waste in the planet's waters. What is seen on the surface is just a glimpse of what's below.
"Brother Winter, a mask made from a mixture of plastics and found objects, encapsulates the spirit of winter both visually and in verse. We liked the simplicity of Beware of the Bear, a polar bear puzzle made with box cardboard and paint, which exemplified an easy re-use of waste resources to art-play."
The judges also commended Meole Brace KS2 Art Club for its snowflake and Nicola Benbow for Winter Within.
Julie Hotchkiss, retail manager at Reviive, said: "This competition was a lot of fun and highlighted just how creative we can be with material we would normally dispose of.  It was also great to collaborate with Sara, Wren and the team at PCA. Well done to the winners. "
Pictures:
1 (left to right) Ivan Allen, artist, Jancis Vaughan, artist, Sara Mai, director, PCA, Julie Hotchkiss, retail manager, Reviive and Mal Brown, artist.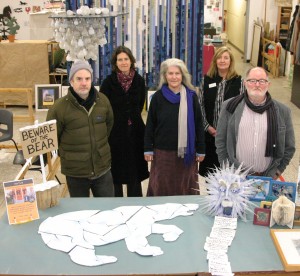 2 (left to right) In front of winning entry Lightberg are Jancis Vaughan and Julie Hotchkiss, retail manager, Reviive.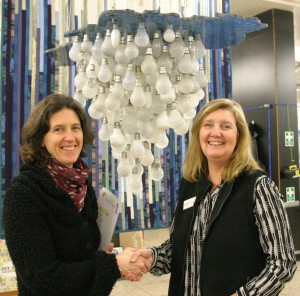 — ENDS —
About Reviive
Reviive was established in 2010 by two Shropshire based charities – Shropshire Housing Alliance and South Shropshire Furniture Scheme. It has three centres in Shropshire at Oswestry, Shrewsbury and Telford.
Reviive is a social enterprise and its aims are to directly help young people and the long-term unemployed with opportunities to work in a supportive environment and learn and grow in confidence so they can enter the job market in a stronger position.
Reviive's profits supports charities that work with homeless people, women fleeing domestic violence, young people having to leave the family home as well people facing health problems and needing to change and re-build their lives.
For more information about Reviive, contact:
Julian Price, managing director
Tel: 01743 442642
www.reviive.co.uk
Facebook: www.facebook.com/reviive
Twitter: @Reviive
For more information about Participate Contemporary Artspace, contact:
Sara Mai, director
Tel: 01743 366771