Reviive extends annual Buy Nothing New Day to include whole weekend as well as Black Friday
A national event first launched two years ago as an ethical shopping alternative to Black Friday, will return to Shropshire again in 2019.
Resale and recycling social enterprise Reviive will be promoting Buy Nothing New Day on Friday 29 November, but for the first time will extend its 20 percent discount; for all customers purchasing from either of its outlets in Oswestry and Shrewsbury; to include Saturday 30 and Sunday 01 December.
Started by Canadian artist Ted Dave in 1992 to raise awareness of blatant consumerism Buy Nothing Day was adopted in the UK by the Reuse Network, re-branded and launched as Buy Nothing New Day in 2017. With the aim of dispelling the myth that second-hand is second-best, donating to or buying from local charities enables them to provide essential support and services to those in need.
Julie Hotchkiss, retail manager at Reviive said: "Last year's event raised awareness of the social benefits from reuse initiatives in our local community and we hope to share that message again with 2019's event. £1.49B¹ was spent in online retail sites alone during Black Friday 2018. Just a fraction of that money could make such a difference to worthy causes, if people decided to buy second-hand from reuse stores across the UK."
People making a purchase between 29 November and 01 December from a Reviive store are encouraged to post a selfie or photo on social media at or outside the outlet and include the hashtag #BuyNothingNew.
Pictures:
1 Dan Wood, Simon Hilton, Jason Stubbs and Steve Boffey from Reviive Shrewsbury.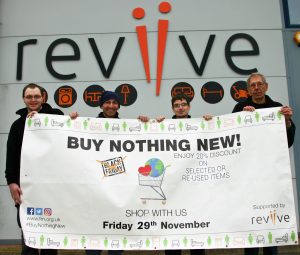 2 Andy Holland, Michelle Carnell and Andrew Parry from Reviive Oswestry.