Reviive celebrates fifth birthday with plans for expansion in mind
A Shropshire recycling and resale organisation recently celebrated its fifth birthday, five years in which it has recorded nearly 30,000 sales, opened three additional showrooms and expanded its workforce thirtyfold.
Reviive was established as a social enterprise or community interest company (CIC) in 2010 by two Shropshire based charities – Shropshire Housing Alliance and South Shropshire Furniture Scheme. Originally employing two people, who still work at Reviive, the workforce currently stands at 59 people including 11 apprentices, located across its outlets in Oswestry, Shrewsbury, Telford and Chester.
Since 2010 Reviive has secured a number of recycling sector accreditations, rubber-stamping its credentials to continue delivering the work it carries out. These include a Social Enterprise Mark, which is independent proof that the organisation has put its profits towards social or environmental initiatives as well as providing people with life chances, and a licence to operate as an authorised treatment facility for electrical waste (WEEE). Reviive is also Furniture Re-use Network, UK Approved Re-use Centre.
Commenting on some of the changes and in particular how the current period of austerity is affecting the business, Julian Price managing director at Reviive, who has been with the organisation since its inception, said: "New furniture can often be expensive and times are tough so people are more prepared to buy second hand good quality furniture because of the savings that can be made. Based on the popularity of our furniture restoration courses people are also purchasing our products to paint and personalise, known as upcycling. In addition, we can offer pieces made by our in-house professional furniture maker, at a fraction of the cost of other bespoke items."
In addition to the effects of austerity, Price believes that people now proactively look to purchase recycled or second hand goods. "There has definitely been a cultural shift and it's a combination of the satisfaction which buying an environmentally friendly product creates, added to the design style that re use can offer by mixing materials. Our success and organisational set up has enabled us to develop a strong apprenticeship programme and through our partnerships with local government and housing providers, we have always provided low income families with furniture."
Co-operation is a key element to Reviive's success and growth with its main strategic partner being The Wrekin Housing Trust. "Over the next five years we want to grow and become a regional business serving the West Midlands and the North West, so we are looking at potential new sites in those areas. Our turnover is £1.5 million and we would like to double that over the next five years. Upcycling, bicycle and electrical goods repair, and re-manufacturing furniture from waste are all in our business plan. However, to secure this development we will require additional investment and our aim is to work with social investment funders or other businesses interested in a social and financial return. Equally as important however, is the fact most of the products we sell are donated to us by the public and for that we are very grateful. The ongoing support from local people donating to and buying from Reviive leads to job creation and skills development," added Price.
Picture: With MD Julian Price (centre) are two of the longest serving Reviive employees – Mica Ryan, Shrewsbury site coordinator, who started in 2012 and Alex Hughes, AATF technician, who started when the business was established in 2010.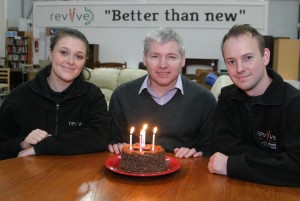 — ENDS —
About Reviive
Reviive was established in 2010 by two Shropshire based charities – Shropshire Housing Alliance and South Shropshire Furniture Scheme. It has four centres, three in Shropshire at Oswestry, Shrewsbury and Telford and one in Chester. The Chester centre is a member of Cheshire Furniture Re-use Forum.
Reviive is a social enterprise or community interest company (CIC) and its aims are to directly help young people and the long-term unemployed with opportunities to work in a supportive environment and learn and grow in confidence so they can enter the job market in a stronger position. It also fulfils a number of other objectives as part of its function as a social enterprise and supports Cheshire West and Chester Council's (CWCC) HELP (Help in Emergencies for Local People) scheme, which provides furniture and household items to individuals and families in exceptional need and is a member of the Cheshire Re-Use Furniture Forum.
Reviive's profits supports charities that work with homeless people, women fleeing domestic violence, young people having to leave the family home as well people facing health problems and needing to change and re-build their lives.
For more information about Reviive, contact:
Julian Price, managing director
Tel: 01743 588458
www.reviive.co.uk
Facebook: www.facebook.com/reviive
Twitter: @Reviive