First for the town as Reviive installs free-to-play piano in Shrewsbury shopping centre
A Shrewsbury recycling and resale organisation has installed a free-to-play piano in the town's biggest shopping centre for a month, with the aim of encouraging budding musicians to showcase their talents while at the same time entertaining the public.
Based on a popular idea by the Street Pianos organisation, which has instruments located all over the world and most notably in the UK at St Pancras railway station in London, Reviive has upcycled, tuned and placed a piano on the top floor in the Darwin Shopping Centre.
Julie Hotchkiss, retail manager at Reviive, who believes that this is a first for the town, said: "Installing a piano in a shopping centre for members of the public to play is a first for us and I believe Shrewsbury as well. It is a creative and fun way for people to share music, whether playing on their own, with a few friends as a small acoustic band or even as a choir. We eagerly await the prospects and hope to hear the sound of live music, including some Christmas carols during the festive period, drifting through the Darwin Shopping Centre. We would also like to thank The Wrekin Housing Trust for its help and support."
Kevin Lockwood, centre manager at Shrewsbury Shopping Centres, said: Kevin Lockwood, centre manager at Shrewsbury Shopping Centres, said: "What a brilliant idea – when Reviive came to us with this suggestion we were delighted to make space available for the piano. We love to make shopping here in Shrewsbury something a bit special and this seemed to fit with that aim. I'm sure there are plenty of talented musicians in Shrewsbury who will be happy to tinkle the ivories and entertain their fellow shoppers with a few tunes."
A video of young Shrewsbury musician Niimi Day-Gough performing Kate Bush's Running Up That Hill and Snow Patrol's Set Light To The Third Bar on the Reviive piano are available to view HERE and HERE. Musicians are not only encouraged to play the instrument but to submit videos of their performances on it to the Reviive Facebook page at www.facebook.com/reviive.¹
Picture: (left to right) Julie Hotchkiss, retail manager, Reviive, Kevin Lockwood, centre manager, Shrewsbury Shopping Centres and musician Niimi Day-Gough.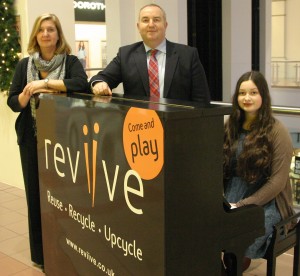 — ENDS —
¹ Subject to approval by Reviive and Shrewsbury Shopping Centres.
About Reviive
Reviive was established in 2010 by two Shropshire based charities – Shropshire Housing Alliance and South Shropshire Furniture Scheme. It has four centres, three in Shropshire at Oswestry, Shrewsbury and Telford and one in Chester. The Chester centre is a member of Cheshire Furniture Re-use Forum.
Reviive is a social enterprise and its aims are to reduce landfill while directly help young people and the long-term unemployed with opportunities to work in a supportive environment and learn and grow in confidence so they can enter the job market in a stronger position.
Reviive's profits supports charities that work with homeless people, women fleeing domestic violence, young people having to leave the family home as well people facing health problems and needing to change and re-build their lives.
For more information about Reviive, contact:
Julian Price, managing director
Tel: 01743 442642
www.reviive.co.uk
Facebook: www.facebook.com/reviive
Twitter: @Reviive
For more information about Shrewsbury Shopping Centres, contact:
Claire Lancaster
Tel: 01743 272322
www.shrewsbury-shopping.co.uk
or
Alistair Syme
Ceidiog Communication
Tel: 01824 703073
Out of hours: 07758841012