Managing director thanks employees and the public for 'tremendous' support as Reviive publishes first social impact report
A Shropshire recycling and resale centre has published its first social impact report, highlighting the organisation's contribution to the local environment over the last twelve months.
Reviive specialises in the resale of donated household furniture and electrical goods through its recycling and upcycling centres in Oswestry, Shrewsbury, Telford and Chester. As a social enterprise or community interest company (CIC) it aims to protect the environment, provide young people and the long-term unemployed with employment opportunities through apprenticeships, work placements and volunteering, support local community groups and assist previously homeless people to access furniture at affordable prices.
Last year Reviive collected 968 tonnes (32600 items) of furniture and electrical goods including 2240 sofas, 6000 white goods, 1500 beds and 1400 mattresses. 507 tonnes were reused and 187 recycled, preventing 694 tonnes from going to landfill, and 440 furniture packages were put together for people in need of furnishing their homes. Reviive has also developed its own deconstruction processes.
Recognised as an organisation that provides supportive employment for people with disabilities, it has helped 22 people into permanent employment, provided 51 volunteer work placements and 16 apprenticeships.
Julian Price, managing director at Reviive said: "This is our first ever social impact report and as we approach Reviive's fifth birthday in October, it is a suitable benchmark from which to gauge how we perform in the future. The results are very encouraging and something that everyone who works at Reviive should be proud of. In addition, the support we continue to receive from the general public either through donations or purchasing items from our showrooms is tremendous."
Picture: Julian Price, managing director, Reviive with successful business administration apprentice Ryan Hosiene.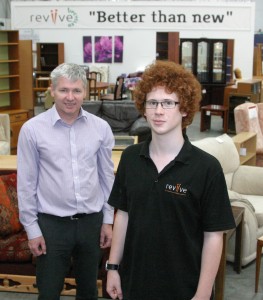 — ENDS —
About Reviive
Reviive was established in 2010 by two Shropshire based charities – Shropshire Housing Alliance and South Shropshire Furniture Scheme. It has four centres, three in Shropshire at Oswestry, Shrewsbury and Telford and one in Chester. The Chester centre is a member of Cheshire Furniture Re-use Forum.
Reviive is a social enterprise and its aims are to directly help young people and the long-term unemployed with opportunities to work in a supportive environment and learn and grow in confidence so they can enter the job market in a stronger position.
Reviive's profits supports charities that work with homeless people, women fleeing domestic violence, young people having to leave the family home as well people facing health problems and needing to change and re-build their lives.
For more information about Reviive, contact:
Julian Price, managing director
Tel: 01743 442642
www.reviive.co.uk
Facebook: www.facebook.com/reviive
Twitter: @Reviive