Reviive: Shrewsbury household furniture recycling and resale centre to auction Tinie Tempah signed items for charity
A Shropshire recycling and resale centre has organised a competition and an event for October, proceeds from which will go to help two charities – one local and one national.
Reviive Shrewsbury, which collects a variety of re-usable items from white and electrical goods, to beds, cupboards, dining room chairs and tables for free, with the aim of reselling them through its showroom, will be holding a 24-hour online auction to win a Reviive bag and upcycled wooden star candle holder signed by recent Shrewsbury Fields Forever festival headline pop act, Tinie Tempah.
Entrants need to go to Reviive's eBay site, a link for which can be found at its Facebook page at www.facebook.com/reviive, where the details may be viewed. The auction starts at midday on Friday 10 October, which is also World Homeless Day and the winner announced at midday on Saturday 11 October. The money raised will be donated to Shropshire Housing Alliance. Originally started on 10 October 2010, World Homeless Day is now observed in over 100 countries worldwide. Its purpose is to draw attention to homeless people's needs locally and provide opportunities for the community to get involved in responding to homelessness, while taking advantage of the stage an international day provides.
As well as running a charity auction Reviive will also be holding a Cupcake Coffee Morning on the morning of Friday 24 October at its showroom on Knight's Way, Battlefield Enterprise Park. The proceeds from this will go to Breast Cancer UK.
Corrie Ellis, online sales and marketing co-ordinator at Reviive, said: "We were very lucky to secure Tinie Tempah's signature on a couple of items, which we hope will appeal to our younger customers who make up a significant percentage of our 600 Facebook followers. Reviive runs regular competitions online and we hope that this and events such as the coffee morning will not only bring people into our three showrooms; in Oswestry, Shrewsbury and Telford; to see what we have on offer, but also raise a lot of money for good causes."
Picture: Corrie Ellis, online sales and marketing co-ordinator, with the signed Tinie Tempah items.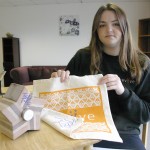 — ENDS —
About Reviive
Reviive was established in 2010 by two Shropshire based charities – Shropshire Housing Alliance and South Shropshire Furniture Scheme. It has four centres, three in Shropshire at Oswestry, Shrewsbury and Telford and one in Chester. The Chester centre is a member of Cheshire Furniture Re-use Forum.
Reviive is a social enterprise and its aims are to directly help young people and the long-term unemployed with opportunities to work in a supportive environment and learn and grow in confidence so they can enter the job market in a stronger position.
Reviive's profits supports charities that work with homeless people, women fleeing domestic violence, young people having to leave the family home as well people facing health problems and needing to change and re-build their lives.
For more information about Reviive, contact:
Julian Price, managing director
Tel: 01743 442642
Email: julian@reviive.co.uk
www.reviive.co.uk
Facebook: www.facebook.com/reviive
Twitter: @Reviive