House building industry first as Reviive Chester receives showhome furniture donation from Wainhomes
A Chester recycling and resale centre has received a donation of former show home interiors from one of the biggest independent house builders in the region.
Reviive, which is located on the Chester West Employment Park, Sovereign Way, accepted the collection of bedroom, lounge and dining room furniture, and accessories from Wainhomes (NW) Ltd through its interior design company Stanza Style.
Commenting on what is believed to be a first for the industry in the North West, field sales manager at Wainhomes (NW) Ltd Sonia Ross, said: "We are not aware of any other house builder that donates its show home furniture and fittings to organisations such as Reviive, and it is great to be the first. The gesture has also generated a positive feel-good factor among everyone at Wainhomes. Working with Alex Egan from Stanza Style, we hope to build on this initial donation and with current housing developments in Crewe, Oakmere and Nantwich either nearing completion or ready to view, there is potential for us to develop further relationships with Reviive."
Julian Price managing director at Reviive, said: "This donation to Reviive is a fantastic addition to the continuously growing and diverse range of products we offer. They are high quality pieces of furniture and accessories which we will be able to sell at very competitive prices. We are very grateful to Stanza Style and Wainhomes for their support and look forward to building on this in the future."
Picture: (left to right) Alex Egan, managing director, Stanza Style, Sonia Ross, field sales manager, Wainhomes (NW) Ltd and Julian Price, managing director, Reviive.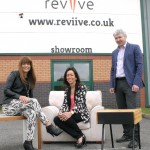 — ENDS —
About Reviive
Reviive was established in 2010 by two Shropshire based charities – Shropshire Housing Alliance and South Shropshire Furniture Scheme. It has four centres, three in Shropshire at Oswestry, Shrewsbury and Telford and one in Chester. The Chester centre is a member of Cheshire Furniture Re-use Forum.
Reviive is a social enterprise or community interest company (CIC) and its aims are to directly help young people and the long-term unemployed with opportunities to work in a supportive environment and learn and grow in confidence so they can enter the job market in a stronger position. It also fulfils a number of other objectives as part of its function as a social enterprise and supports Cheshire West and Chester Council's (CWCC) HELP (Help in Emergencies for Local People) scheme, which provides furniture and household items to individuals and families in exceptional need and is a member of the Cheshire Re-Use Furniture Forum.
Reviive's profits supports charities that work with homeless people, women fleeing domestic violence, young people having to leave the family home as well people facing health problems and needing to change and re-build their lives.
For more information about Reviive (Chester), contact:
Richard Harland, site co-ordinator
Tel: 01244 297396
www.reviive.co.uk
Facebook: www.facebook.com/reviive
Twitter: @Reviive
For more information about Wainhomes (North West), contact:
Sharon Wood, regional sales director
Telephone: 01925 859650
www.wainhomes.net
For more information about Stanza Style, contact:
Alex Egan, managing director
Tel: 01948 860393
Mobile: 07947 461199
www.stanzastyle.co.uk