Reviive: Employment support collaboration with Wheels 2 Work celebrates successful first year
Two Shropshire organisations which combine to provide the equipment, affordable loans and a support service for people aiming to secure employment, celebrate their first year working together this month.
Reviive, which specialises in the resale of donated household furniture and goods through its recycling and upcycling centres in Oswestry, Shrewsbury and Telford, teamed up with Wheels 2 Work (W2W) in 2014. W2W helps people either seeking employment where travelling to and from the place of work is necessary, employed but at risk of losing their job due to a lack of suitable transport or are unable to afford their own. Although the range includes electric bikes, mopeds and scooters, the partnership with Reviive is based on its pedal bicycle offering.
Initiated by site coordinator Simon Hilton, Reviive Telford has sold bicycles from when it first opened in June 2013. Prior to joining Reviive Hilton spent three years in the industry, working on high end road bikes. He is also a qualified Level 2 Bikeability trainer.
Reviive currently receives suitable bicycles donated by the public or from W2W, which are then fully serviced and returned or forwarded to W2W, which will either pay a discounted price for the bicycle or for the work carried out on the one it initially presented.
Simon Hilton said: "Our aim is to provide a refurbished and fully-serviced bicycle which people can use with confidence. The relationship with W2W is a very positive one in that not only are we recycling but also helping users to enhance their long-term employability."
"Our clients need to know that while the bicycles they have from us are not brand new, they are in excellent working order, reliable and have passed the appropriate safety tests. Simon and his team at Reviive have provided an outstanding service over the past 12 months and we look forward to continuing this working relationship indefinitely," added Davina Allen, Wheels 2 Work development coordinator for Shropshire, Telford & Wrekin.
More information about the Wheels 2 Work scheme is available at www.shropshire-rcc.org.uk/transport.
Picture: (left to right) Simon Hilton, site coordinator, Reviive, Telford and Davina Allen, Wheels 2 Work development coordinator for Shropshire, Telford & Wrekin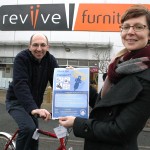 — ENDS —
About Reviive
Reviive was established in 2010 by two Shropshire based charities – Shropshire Housing Alliance and South Shropshire Furniture Scheme. It has four centres, three in Shropshire at Oswestry, Shrewsbury and Telford and one in Chester. The Chester centre is a member of Cheshire Furniture Re-use Forum.
Reviive is a social enterprise and its aims are to directly help young people and the long-term unemployed with opportunities to work in a supportive environment and learn and grow in confidence so they can enter the job market in a stronger position.
Reviive's profits supports charities that work with homeless people, women fleeing domestic violence, young people having to leave the family home as well people facing health problems and needing to change and re-build their lives.
For more information about Reviive, contact:
Julian Price, managing director
Tel: 01743 442642
www.reviive.co.uk
Facebook: www.facebook.com/reviive
Twitter: @Reviive
For more information about Wheels 2 Work, contact:
Davina Allen, development coordinator
Tel: 01743 237885 / 237883
www.shropshire-rcc.org.uk/transport