Greg Davies to head up list of stars at the inaugural Shrewsbury International Comedy Festival 2017
World renowned comedian and actor Greg Davies is to appear at the first ever Shrewsbury International Comedy Festival (SICF).
The main body of SICF, strategically timed to provide top circuit acts with opportunities for last minute previews for their Edinburgh Fringe Festival shows, will contain 15, hour-long performances in four town centre venues over three days, starting on Friday 21 July.
The Old Market Hall in The Square, St Nicholas Bar and Café on Castle Street and The Old Post Office on Milk Street, have all been selected to showcase the quirky, festival-friendly nature of Shrewsbury.
On Sunday 23 July in Theatre Severn's main auditorium, Greg Davies will host the SICF Gala Show – a three hour extravaganza to close the festival – containing a line-up that is described by the organisers as 'a whole series of Live at the Apollo squeezed into one night.'
SICF is the brainchild of Kevin Bland and Beth McGowan. Kevin is a former stand-up comedian who has promoted comedy in Shropshire and beyond for over a decade. Beth holds nearly 20 years' experience in sound production and event management.
Commenting on the festival Kevin said: "This is something Beth and I have talked about for a while, but we couldn't have got it off the ground without the enthusiasm and support of the venues. Securing someone of Greg Davies' calibre for our inaugural event is fantastic. His schedule is ridiculously busy next year as he tours his new show and obviously local fans will be able to watch his warm up shows at Theatre Severn in September. Whereas they are work in progress performances on a set theme, this is an opportunity to see Greg 'back on the tools' as it were. Before all the TV and film success, he was the best compere in the business and we're really excited he has agreed to perform. We will be announcing the other acts in the coming weeks, but we can start by saying that the brilliant Joe Lycett will join Greg in the gala show line up. Joe's recent run-ins with parking attendants as recounted on 8 out of 10 Cats Does Countdown have gone viral and he's one of the biggest draws on the live circuit.
"Shrewsbury has a great tradition of hosting festivals. We have one for everything, from beer to flowers, food to comics and street theatre to folk music, so it's about time for some comedy too!"
Tickets for the SICF Gala Show on 23 July are £30. In addition there are a limited number of VIP tickets available at £40, which include access to the after show party. As a special offer, the first 30 VIP transactions will receive a free copy of Joe's brand new live DVD, That's the Way A-ha A-ha Joe Lycett (available as collection only from the Theatre Severn).
Tickets for all work in progress/preview performances have been capped at £5 each and are available with those for the gala show through the Theatre Severn website or box office on 01743 281281 from Monday 12 December.
Picture: Greg Davies.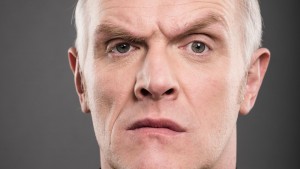 — ENDS —
For more information about Shrewsbury International Comedy Festival, contact:
Kevin Bland
Tel: 07738 100828
Twitter: @shrewcomedyfest
Facebook: www.facebook.com/ShrewsburycomedyFest/