Hobsons Brewery steps up as Shrewsbury International Comedy Festival sponsor
Organisers of the inaugural Shrewsbury International Comedy Festival (SICF) have secured Hobsons Brewery as a major sponsor.
Established in 1993 by the Davis family, Hobsons Brewery is now a leading craft brewer in Shropshire and one of the most environmentally sustainable breweries in the UK. Based in Cleobury Mortimer, Hobsons cask ales and bottled beers have won multiple national and international awards and are all brewed onsite using traditional brewing techniques. Aside from the financial support Hobsons will be providing SICF with bottles of Old Prickly, which has been designated the Official Beer of the Festival, to place in Gala Show VIP goody bags and promotional banners at every venue.
Hosted by Greg Davies, tickets for the Gala Show at Theatre Severn, the finale of the three day event starting on Friday 21 July, have already sold out. The main body of SICF, strategically timed to provide top circuit acts with opportunities for last minute previews for their Edinburgh Fringe Festival shows, will contain 15, hour-long performances in four town centre venues including The Old Market Hall in The Square, St Nicholas Bar and Café on Castle Street and The Old Post Office on Milk Street.
Reuben Crouch, commercial director at Hobsons said: "Hobsons has always championed the community and bringing laughter to our county deserves support. What isn't a laughing matter is the declining UK Hedgehog population. We've just rebranded our Old Prickly pale ale, sales of which have so far raised over £30,000 for the British Hedgehog Preservation Society and making it the official beer of the festival will further raise awareness of this great beer and cause!"
SICF organiser Kevin Bland said: "This sponsorship supports our sustainability as well as providing a certain kudos to the festival. In return, businesses realise the potential benefits from supporting an event such as ours and as such we would like to thank Hobsons Brewery for its generosity. If 'Shrewsbury International Comedy Festival 2017 – Sponsored by Hobsons Old Prickly' is a success, then we hope it develops into a long term relationship. And if we can have a drink and a laugh, and save hedgehog lives while we do it that can only be a good thing."
Pictures:1 (left to right) Reuben Crouch, commercioal director, Hobsons Brewery, Beth McGowan and Kevin Bland, organisers, Shrewsbury International Comedy Festival.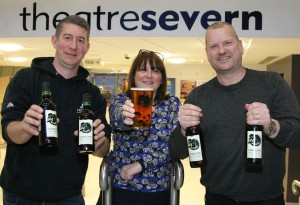 2  Hobsons Brewery, SICF logo.